Bellingham Children's Theatre Still Struggles for Recognition
Sep 29, 2014 06:53PM ● By Kathryn Nulf
Cast members in BCT's 2013 production Olivia
Even though they just celebrated their 34th year, people are still unaware of what the Bellingham Children's Theater (BCT) is—or that it even exists. Carolyn Carey, the Drama Director for the BCT, hears each year, "Bellingham Children's Theater, I've never heard of that." The BCT has held a performance every year since 1981, when Carey and Maryanne Donahue decided to combine the after-school drama club and the chorus at Macy's School. At the time, Carey was a fourth-grade teacher and Donahue a music teacher. They did a few shows together at the school and then branched out on their own. Today BCT practices take place once a week at St. Blaise Church, and performances are held at Bellingham High School. BCT registration is the last week of January, with the season running  February—June (not during school vacations).
At their peak, there were 180 kids in a show, and it was grades 3-6. The kids loved it so much that the Macy's School principal at the time said the kids were getting too excited about the group. So Carey and Donahue decided to go out on their own. This way they could include more children. The BCT is a place for kids to learn new skills, share their interest in theater, build confidence, and have fun meeting new friends. It's also a great opportunity for home-schooled children to participate in a local group. "We've seen a lot of kids come alive through this," said Carey.
Today the BCT is an affordable local theater option that welcomes children in grades 4-9 in Bellingham and beyond. This year children from Bellingham, Medway, Whitinsville, Blackstone, and Milford participated. In the past they've had kids from Rhode Island and many of the surrounding towns. "All are welcome no matter where they live," said Carey.
It's been a while since the BCT has had a waiting list of kids. "Now that there are many options available to kids, it's not like that. At the time there was nothing else," Carey said. In the past few years, the BCT has had about 15-25 kids participate, and their other activities are always taken into consideration. "If kids are involved in other activities, we're very understanding, and they can be excused from rehearsal as needed," Carey said.
Carey said that the smaller groups have allowed for more one-on-one attention with the actors. "It really gives us a lot more time to do individual work with kids—spend more time with each actor. Everyone gets more to do too. Kids can have more than one part in a play," she said.
One of the most rewarding aspects of the BCT is seeing kids return year after year. Children come back for many reasons. Last year a girl had a small solo and after that she said she felt like she could do anything. She played the white rabbit in this year's show, Alice in Wonderland—The Musical. The BCT does not have auditions. Kids get what is called "more responsible parts" as they get older. The longer they stay with the organization, the more responsibility they can take on, if they choose.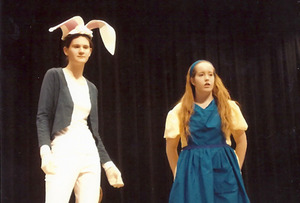 Shows over the years have all been musicals, and each year the participating children actors design the show's t-shirt. They don't perform Broadway shows because they are too long and complicated. The first show, performed in 1981, Nothing to Do, was written by Carey. "Some of the plays over the years have been written by local residents and students, and other people involved with BCT. We're always looking for things that would be appropriate for kids and their voices," Carey said.
The BCT's music director, Maryann Donahue, listens to everyone's voice to be able to match it with the music. Then each child is matched up to the show's part accordingly. For the last 4 or 5 years at least, each child has had more than one part. Carey said, "Our idea is to make kids feel good about themselves by having them work together toward a goal. They learn that it's fun but that it's also hard work. They learn how to work together and cooperate as a group." Actors usually receive a CD to take home with them to practice their parts outside of rehearsals.
A few of the main things the directors work on with the kids are speaking loudly enough and having confidence. "We've had a lot of people come in really shy and they go on to become things like college professors, teachers, and heads of companies. We're not looking for people to go on to Broadway, although we do have an actor who is in New York," Carey said.
Carey and Donahue are both retired now and love to stay connected to their community through the BCT. Carey's daughter, Anne Beth Carey, is BCT's choreographer and dance director (she also did all of the costumes this year); and Donahue's daughter, Anne Donahue-Boddy, is a third-grade teacher in Bellingham and serves as the BCT's art director.
"We enjoy the kids; it's a lot of fun," said Carey. "Now that I'm not teaching anymore it's my connection with kids," she said.
Carey and others involved with the BCT are volunteers. There is a registration fee to cover expenses, but no one is ever turned away if they cannot pay. For more information, call Carolyn Carey at 508-966-1507 or Maryann Donahue at 508-966-0848.