Scholarships Funded Through Annual BBA Golf Tournament
Sep 29, 2014 06:09PM ● By Marjorie Turner Hollman
Winners (l-r) Dot Murray, Karen Dutil, Cindy McNulty & Pam Brodeur
Women's winners for the second year in a row (L-R) Dot Murray, Karen Dutil, Cindy McNulty, Pam Brodeur
The annual Bellingham Business Association (BBA) golf tournament was held under threatening skies in early September, but the rain held off and all the foursomes finally arrived at the outdoor tent at the New England Country Club on Payne Street. A picnic supper was served to all golfers, who by their participation supported the work the BBA does in sponsoring programs during the year, and, most importantly, funding college scholarships each year. Participation was so strong that several interested groups of golfers had to be turned away—the course was full. Perhaps this will be an incentive next year to get registrations in early.
The winning women's foursome--Dot Murray, Karen Dutil, Cindy Mcnulty and Pam Brodeur-- was a repeat from last year; clearly they are a great team and trounced the competition.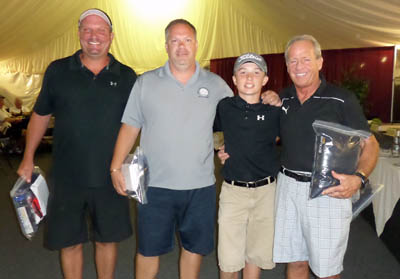 The men's winning foursome (L-R): Jeff Newcombe, Mike Nicolace, J.J. Newcombe,  and Mike Ahearn.
The bulk of proceeds from the tournament will return to the community in the form of scholarships to residents of Bellingham who graduate from high school in spring 2015. Each spring the BBA awards two $1500 scholarships to Bellingham residents who intend to continue their studies at an accredited college. Scholarship requirements and application forms are available at
http://bellinghambusinessassociation.org/Forms.html
.
As always, numerous local businesses stepped forward and strongly supported this effort on behalf of the community. Many thanks to all who did so much to make this possible. Long-time tournament organizers, BBA members Sue Ranieri and Sue Grady, worked tirelessly to make sure everything went smoothly.
The next meeting of the BBA will be held Wednesday, Oct. 8, at 6PM at Lowell's Restaurant. The focus will be on non-profit organizations (names of non-profits that will be represented were not available at press time). The BBA is a nonpolitical, nonsectarian, nonprofit organization, comprising business owners and self-employed individuals situated in and around Bellingham. For more information, visit
http://bellinghambusinessassociation.org/index.html
. 
List of sponsors and contributors to this year's golf tournament: Alexander's Auto Repair, Antron Engineering, Aroma's Pizza and Grill, Bamboo Express, Bellingham Bulletin, Bellingham Dairy Queen, Bellingham House of Pizza, Bungay Brook Golf Club, Brian's Country Greenery, Charlie's Tire, Charles River Bank, Charon Tree Service, Circle CG Farm-- Rob Daley, Cornerstone Chiropractic, Dean Bank, Douglas Wine & Spirits, Dunkin' Donuts at Hartford Ave. Bellingham, Edge Barber Shop & Hair Salon, EFR Electric Inc., Famous House of Pizza, Gateway Liquors, G.M. Abodeely Insurance Agency, Golfsmith at Rte. 9 Natick, Grumpy's Restaurant, Hunan Kitchen, J. Brian Day, Joe DeWolfe—The Musicutter, John Chipman & Company, CPA Paul Gerrish, John Orthman of The Moody Street Group,  L'il General S. Main Street Bellingham, Lowell's Restaurant, Michael Heaney, Atty.—Law Offices of Heaney and Small, Middlesex Savings Bank, Milford National Bank & Trust, NECC/EP,
Northeastern Tae Kwon Do, Outback Steakhouse, Paul Nilson of Urban West Insurance Group,
Professional Machine, Inc., Realty Executive Tri-County, Ro Caddick-Kilduff, Rockland Trust,
Ruthie's Soda Fountain, The Father's Table, T & J Heating, A/C & Plg Inc., Steps off Broadway,
Success thInc., Sunny Patel and Family, Three Sisters Hair Salon, Sherri Kauker – RETC  (Realty Executives), Sue Ranieri of Coldwell Banker Residential Brokerage, New England Country Club, Thrifty Witch Consignment Shoppe.