Dean Bank Celebrates Completion of Bellingham Branch Makeover
Sep 29, 2014 05:53AM ● By Pamela Johnson
Shown above (L-R) are Senior Vice President, Chief Retail Banking and Marketing Officer Nancy Davidge, Bellingham Selectman Michael Soter, Board of Directors member Daniel Ranieri, Board of Directors member Alva Bourre, Senator Richard T. Moore, President/CEO Kevin R. Goffe, Board of Directors Chairman John Vignone, Bellingham branch manager, Hildee Lewis, President/CEO (ret.) Wayne Cottle, Honorary Board of Directors member Robert Simmler
Dean Bank President and CEO Kevin R. Goffe and several other bank officials, officers and employees were on hand along with Senator Richard T. Moore (D-Uxbridge) and Bellingham town officials for a ribbon-cutting ceremony recently held at the newly renovated Bellingham branch of the bank, located at Crooks Corner, 411 Pulaski Blvd.
In his introductory remarks, Goffe said, "The plaza and Bellingham branch were constructed in the mid-1980s, and much of the original design remained. It was time for everything to gain a fresh, modern and bright makeover. Through cooperation with town officials, coordination with our design and general contractor partners, as well as the patience of our customers, staff and plaza patrons, we've been able to accomplish our goal. We are delighted by the results achieved and we are grateful for the support of our plaza tenants and branch personnel who suffered through the construction efforts and disruption of daily operations."  
The branch and plaza had considerable cosmetic and structural changes to the exterior too. "Our tenants are all local businesses who have a stake in this community," Goffe noted.  "We understand that in order to thrive, they need a clean, modern and attractive plaza that gets noticed by vehicles driving by, day or night. We feel that the enhancements do just that--provide an eye-catching new look to the thousands of potential customers that travel through the Crooks Corner intersection every day." 
Goffe introduced Senator Richard T. Moore, whom he described as "a strong advocate for small businesses on Beacon Hill." The senator, demonstrating his sense of humor, noted the irony of having a bank located at Crooks Corner: "Hopefully people will put money in, not take it out."  Moore noted what has been accomplished through the commitment of both public and private funds: "This whole area is a showcase of public and private investment, from the federal funds used to redo Pulaski Boulevard, to the town's investment in reopening the south fire station and building the Crooks Corner common, to Dean Bank's renovation of the entire plaza; and then, of course, we have the two new pharmacies right here across the street from each other [referring to Walgreen's and the soon-to-be-completed CVS]. This area was tired and now it's rejuvenated. These are accomplishments that we can all be proud of." 
In introducing Bellingham Branch Manager Hildee Lewis and her role in the renovation effort, Goffe used words like "courage" and "determination," noting that he "always appreciates her bright smile." Lewis, who came to Dean Bank from a position as Vice President of Retail Operations for the Edgartown National Bank on Martha's Vineyard, said that she loves a challenge, and she knew that accepting the position at Dean Bank at the cusp of their transition would be a challenge indeed.  "This is an exciting time," she said. "We're now at the cutting edge of banking technology."   
Lewis talked about concierge banking, a concept which is new to this area but already being used in metropolitan Boston. "Simply put, it's financial catering with a concierge's touch. The bank will cater to your financial needs with the attention and resources needed to make your banking experience extraordinary," she explained. "The more mundane tasks have been automated so that our customers may expect nothing less than thorough and responsive service from our staff members. It's more about an experience than a banking visit." 
The branch interior now features an entirely new design and layout, which will improve the overall experience for bank customers. It includes a café area with complimentary coffee or tea and a comfortable seating area. It has also been equipped with a technology section where customers can charge their mobile devices, take advantage of free Wi-Fi, and test-drive the bank's new electronic services on an iPad®. Office privacy has been enhanced and new décor installed. Of course, security remains of paramount importance.  
Goffe wants customers to know that they are welcome to take a few minutes before or after their transactions are complete to explore the branch and find out how the bank can help improve their financial future. He also encourages those who are not yet customers to stop in for a visit and check out what Dean Bank has to offer them. "The Bellingham branch, like our new website, is filled with innovative banking technology in an environment designed to serve our customers more personally and efficiently, giving you the time to take advantage of our new technology area if you wish or simply just enjoy a complimentary cup of coffee! It's modern banking convenience delivered with good old-fashioned friendly service--the perfect blend of the new with the traditional," he says in his President's Message at deanbank.com, where he also notes that the bank celebrated its 125th anniversary in June.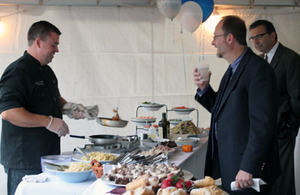 Chef Barry Keefe with Chris Ryan and Jim Pannos
When the speakers concluded, everyone moved into a large canopy tent set up with cafe tables to enjoy fruit, cheese and veggie platters, cooked-to-order pasta dinners prepared by Chef Barry Keefe, owner of Dinner & Company, located in The Plaza at Bellingham Commons, and a selection of delicious desserts. Between the food, the setting, and the complimentary portable mobile device chargers that bank personnel handed out, it was a first-class celebration from start to finish.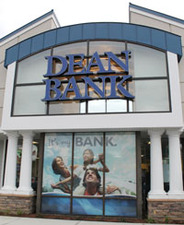 Founded in 1889, Dean Bank (
www.DeanBank.com
) is a Massachusetts state-chartered, mutually owned institution with assets of $250 million. The bank has branches located in Bellingham, Blackstone and Mendon; the bank's headquarters are in Franklin. As a member of both the FDIC and the SIF, the bank's deposits are insured in full and Dean Bank is an Equal Housing lender.