Don Eldredge retires as library custodian after 25 years of service to the town
Sep 29, 2014 05:43PM ● By Pamela Johnson
Don Eldredge retires after 25 years with the town.
August 31st was Don Eldredge's last day at the library.  Yes, he was here on Sunday of Labor Day Weekend to empty the book drop of its weekend returns one last time before his retirement.
Don, a lifelong Bellingham resident, has been a fixture at the Bellingham Library's Blackstone Street building since it opened in 1989.  Throughout the years Don has been responsible for making sure the building was safe, clean and accessible to library staff and patrons.   This is a lot harder than it sounds. 
A foot and a half of snow on a Friday night and the library is opening at 10 am on Saturday; Don was always here to snow blow the walkways, shovel the doorways and make sure plenty of ice melt was applied to whatever areas needed it.  Ninety five degrees out and the lawn needs mowing; again Don was here to do what needed to be done.  
Vacuuming, window cleaning, bathroom maintenance and so much more were part of Don's everyday routine at the library.  I think we often forget how much goes into maintaining a building; we take for granted that it will be clean.  But think about your own home.  How quickly would its condition degrade if there wasn't daily and weekly maintenance done to ensure it is kept in good condition?  Multiply that by about 100, as there are over 300 people per day using the library building, and you'll have an idea of Don's responsibilities! 
On Friday, August 29th The Friends of the Library hosted a Retirement Luncheon for Don.  It was attended by Library Staff, Trustees and Friends; Town Officials and Employees; Elected State Officials and their staffs; and Don's Friends and Family.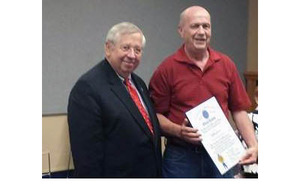 At the Luncheon Senator Moore presented Don with a State Senate Citation noting his contribution to the town.  Senator Moore, in speaking to the group about the value of public employees, noted that there are two people you should get to know in public buildings, the secretaries and the custodians,  because they are the ones who know how to get things done. 
Don was also presented with a State House of Representatives Citation by Amanda Copeland, aide to State Representative Kevin Kuros.  The Library Staff, Trustees and Friends presented Don with a plaque commemorating his service to the library highlighting the years, days, hours, minutes and seconds he spent working here, and on a lighter note outlined how many rugs he had vacuumed, bathrooms he had cleaned and how many times he was called in the middle of the night to deal with building emergencies.  
The library community wishes Don the best and many years to enjoy retirement with his family.