Bellingham Teachers React to Crisis Scenario
Sep 29, 2014 05:08PM ● By Kenneth Hamwey
New Procedure Deals with Response to an Active Shooter
A.L.I.C.E. likely will be a very common utterance at Bellingham schools in the days ahead.
The letters are from the words "alert, lockdown, inform, counter and evacuate," and they all deal with keeping children safe when there's an emergency response to an active shooter in a school setting. The program is designed to educate teachers to barricade doors, find ways to communicate key information, distract a would-be gunman and, when possible, escape.
About 275 teachers, administrators and secretaries from Bellingham's six public schools attended police officer Lenny Gosselin's three-hour training session at the high school on Aug. 26, which focused on the basics of A.L.I.C.E. and on how to proceed when dealing with the steps in the emergency policy that's in place in many schools nationally. The session also included masked gunmen stalking the hallways, causing chaos but also intending to teach those inside a lesson in security and survival.
"Shooters choose schools because they're high-profile and they offer low resistance," said Gosselin, who serves as the school resource officer in Bellingham. "Mass casualties usually are the result, and the attacks usually are successful."
Currently, school employees in Bellingham have two policies to follow, which include "stay in place" and "lockdown." When teachers adhere to a stay-in-place policy, they continue to teach but keep their students in their classroom.
"The issue may not be security-related, but it's something of a serious nature," said Superintendent of Schools Ed Fleury about the stay-in-place procedure. "The other policy is lockdown, and it involves locking doors, covering windows, turning off lights, using a barricade, going to a safe spot, then evacuating when possible. We'll be incorporating A.L.I.C.E. because it's been shown to save more lives."
Referring to the current lockdown procedure, Gosselin told his audience that as long as they followed that method they'd be safe from any intruder. Those attending responded with mild laughter, a reply Gosselin expected. "The worst thing you can do is to sit in your safe spot and wait to be slaughtered," he said. "I call the safe spots kill spots."
 Gosselin, who said the average response time for police to be on site at a school is 5-6 minutes, stressed the importance of information and the need to counter a shooter by using any form of distraction. Information from a school's public address system or from any technological device could provide teachers with knowledge of where a shooter may be.
"If a shooter breaks down a barricade and enters a room, slow him down by throwing a chair or any object, like a fire extinguisher," Gosselin said. "You want to disrupt his ability to shoot, and distractions are important. Improvise and make a chair a weapon. When teachers and their kids can evacuate, get as far away as possible."
After an hour of slides and videos that provided facts and figures on disasters like Columbine, Sandy Hook and Virginia Tech, Gosselin divided his audience into groups that prepared for a school-wide lockdown in classrooms, the cafeteria and the library. Teachers and administrators worked on finding "a safe spot," barricading their area and seeking an evacuation route.
Eighteen Macy teachers and their principal (Jaime Slaney) were assigned to the high school's library. The group located a safe spot in a side room, formed a barricade, then exited out a corner door when Mike Garafano, the school's technology director, entered with an airsoft rifle, wearing a mask and posing as a shooter.
"We followed directions when the lockdown was announced," said Slaney, who's been principal at Macy for seven years. "We found a safe spot, put up a barricade and, when that was broken, we evacuated. As for the overall session, I thought it was a good example of seeing what can occur in real situations. It sparked conversation and generated questions. It was good professional development and a good use of three hours."
Gosselin, however, wasn't impressed with everyone's reactions because some implemented different strategies that combined current and future policies. "At the start of the lockdown announcement, many of you ran and that's wrong," he emphasized. "Some of you did stay in your safe spot and stayed down in a dark area. That was awesome.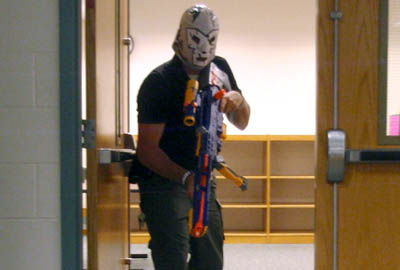 Det. John McLaughlin playing the role of a school shooter
"But many of you ran immediately. There's a science to this and it involves staying in place, then eventually evacuating, but it's gotta be timely. Remember, you didn't have kids with you in your room today. There'll be children and you may have to deal with special-needs kids, autistic kids and kids in wheelchairs or on crutches. These are considerations you didn't have to deal with today."
Fleury said he saw some chaos while teachers followed the A.L.I.C.E. procedure. "Don't forget, we've got 700 students in this building and we need to know where they are," Fleury noted. "Accountability is the key when A.L.I.C.E. kicks in. Also, we're told to use discretion. Remember, public address announcements may be made while a gunman has a weapon pressed against someone's head."
Overall, Gosselin was pleased with his audience's attentive nature and their questions. "We crammed a lot into three hours," he said. "There was some confusion, but you all knew how to barricade and exit. Today was a good dose of reality, and it was a learning experience."
The gathering at Bellingham High on Aug. 26 saw some sobering sights and heard some startling audio from Columbine and Sandy Hook. Gosselin informed his audience that the Columbine tragedy in 1999 ended with 15 dead and 24 injured; the Virginia Tech shooting happened in 2007 with 33 dead and 23 injured; and the Sandy Hook Elementary School attack in Newtown, CT, concluded with 28 dead.
Bellingham police and school officials are acutely aware of the tragic situations that occurred at those venues. To prevent tragedies of those magnitudes, the A.L.I.C.E. program, which was presented to the School Committee a week after Gosselin's seminar, is now being incorporated into current policy and procedure. Hopefully, it will never have to be used.
A.L.I.C.E. Training at BHS [5 Images]
Click Any Image To Expand