Bulldogs Rally Past Medfield for Sr. Babe Ruth Crown
Aug 29, 2014 10:00AM ● By Kenneth Hamwey
written by Ken Hamwey, Bulletin Sports Editor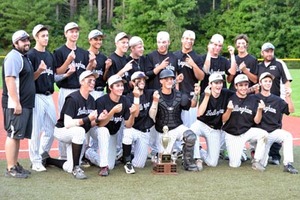 Championships just keep rolling in for Bellingham. First it was the girls basketball team winning a Sectional title; then the baseball and softball teams won both their Sectionals and eventually a pair of State crowns. The latest squad to claim a title is the Senior Babe Ruth Bulldogs, who staged a stunning comeback and upended Medfield for the Central Mass. championship.
 Manager Paul Jacques' squad finished its season at 16-2, winning the South Division crown. In the playoffs, the Bulldogs eliminated Holliston by winning two straight and repeated with a two-game sweep of Medway. In the best-of-three World Series final, Bellingham, which lost the opener to Medfield, 4-1, bounced back in the final two games with triumphs that gave the Bulldogs the 2014 crown. The Bulldogs eliminated Medfield with 4-1 and 12-16 scores.
"Our kids weren't fazed when they lost the opener to Medfield," Jacques said. "What helped our team was having seven boys from the high school's State title team and also having five boys from Mount St. Charles, which got to the Rhode Island Sectional finals before bowing out."
Michael Farrell pitched the Bulldogs to victory to even the series with Medfield, and Jared Abernethy notched the win in Game 3. John Cutler, who suffered the loss in the opener to Medfield, pitched superbly in Game 1, which was scoreless in the sixth inning. During the seven-game playoff run, Cutler was 1-1, Abernethy and Farrell were 2-0, and Andrew Uttermann was 1-0. Mount freshman Tyler Rudek recorded three saves in the playoffs.
"Those five boys pitched tremendously in the regular season and the playoffs," Jaques said. "They were very composed, never panicked and were able to block out any distractions. I'm proud of the way they handled themselves."
With the series tied at one game apiece, Bellingham's offense unloaded in the finale. Sean and Ryan Postler were consistent, and Josh Reget and Tate Laquerre were huge run-producers. Sean Postler stole four bases in Game 3, Ryan Postler went 1-for-3 with two runs-batted-in, Reget had a 3-for-5 outing with three RBIs and Laquerre went 2-for-4 with three RBIs.
"Winning the title by coming from behind was rewarding," Jacques said. "Medfield had beaten us the last two years for the championship so it was nice to beat the team that's been a thorn in our side. We got great leadership from four boys who were playing their final season for us—the Postler brothers, Austin Nunn and Dan Haddad. Other key factors included the way we adjusted to wood bats, the team spirit and chemistry was outstanding and everyone on the roster genuinely liked each other."
Here's an offensive breakdown of the numbers some of the players compiled during their 22-3 season: Sean Postler—.465 batting average, 20 stolen bases and 30 runs scored; Ryan Postler—21 RBIs, .385 batting average; Tate Laquerre—19 RBIs, .314 batting average; Anthony Crowley—.333 batting average, 17 stolen bases; Josh Reget—.349 batting average, 15 RBIs; and Tyler Rudek—.373 batting average, 15 RBIs.
The pitching numbers are stunning: Farrell—6-0 record, 0.80 earned-run average, 41 strikeouts; Uttermann—3-0 record, 2 saves, 0.78 E.R.A., 37 strikeouts; Rudek—1-1 record, 0.44 E.R.A., 22 strikeouts, 5 saves; Abernethy—4-0 record, 3.37 E.R.A.; Cutler—4-1 record, 2.71 E.R.A., 34 strikeouts.
The CMass title was the third in Jacques' nine years as manager. The Bulldogs were also champs in 2005 and 2006. The 22-3 record this year was the second best in team history (the  2006 team finished 24-1).
Jacques, who teaches at the middle school level in Milford, coaches varsity boys soccer and boys and girls indoor track and is the assistant baseball coach at Mount St. Charles. Jacques lauded his entire team for the Bulldogs' success this year and also praised his assistant coaches—Mike Sutherland, Tim Mezzadri and Kyle Boucher. 
BHS Girls Soccer Coach Optimistic
The Bellingham High girls soccer team lost its top two scorers and its goalie from last year's squad, but coach Mike Suffoletto is optimistic about the Blackhawks' 2014 season, which gets under way on Friday, Sept. 5, at home against Holliston.
"We lost Brooke Harribine and Meg Casey, our top scorers, and goalie Cassie Healy, but we've got 12 returnees," Suffoletto said. "I'm optimistic because our nucleus has experience, but we'll have to work hard to develop our individual skills. Our goal is to be better on offense, improve on last year's 4-11-3 record and move up in the Tri Valley League standings."
This year's captains are seniors Danielle Arcidiacono and Lindsey Jensen, a pair of midfielders whom Suffoletto is pleased to have as team leaders. "Both girls are outstanding players, quality leaders and student-athletes with good character."
Suffoletto rates defending champion Medway as "a very formidable team" and notes that seven of the 10 TVL teams qualified for tournament play last year.
 Boys Soccer Team Has Two Objectives
The 2014 boys soccer team at Bellingham High will be striving to achieve two goals—more victories and a middle-of-the-pack finish in the Tri Valley League. Last year, the Blackhawks opened their schedule with a triumph over Millis but didn't win again until late in the season against Ashland.
"We showed enthusiasm and initiative at summer practice, which was organized by our captains (John Howard and Will Schmith)," said Carlos Costa, who's entering his ninth year as the team's coach. "John and Will communicate well, display great character and set excellent examples. We've got nine seniors and that should provide us with some strength and consistency."
Senior Paul Dwelly, who can play central defender or midfielder, will be a major key for the Blackhawks. "He's physically strong and has a commanding presence on the field," Costa said. "A leader by example, he gives 100 percent all the time and is a steady influence. He can provide offense because we can use him on corner kicks and as a central midfielder."
Costa rates defending champ Hopkinton, Westwood and Medfield as the top contenders for the TVL title with Norton and Dover-Sherborn rounding out the top half of the conference.  Costa again focused on technical and tactical training in the pre-season, and he's hoping those areas pay off in the win column. Bellingham will open its season at Holliston on Sept. 5. 
Field Hockey Team Eyes Improvement
Bellingham High's field hockey team has nine starters returning for the 2014 season, but second-year coach Aley Thibault says her squad is still in a rebuilding period.
"We're young, but some girls from last year's team got playing time and gained some experience," she said. "Our goals this year are to sharpen our skills, strengthen our confidence and improve on last year's record (2-14-2). Dover-Sherborn, the defending Tri Valley League champs, is still strong and appears to be the team to beat."
Seniors Julianne Kilduff (midfield), Jocelyn Pelletier (forward) and Mackenzie Costello (defense) are the captains. "They're good leaders, they've got three years of experience and they complement one another very effectively," Thibault said.
The Blackhawks, who had 25 players report for pre-season practice, will open their season on the road against Hopkinton on Sept. 4. 
Captains Listed for BHS Cross-country
Eight boys and six girls will form Bellingham High's two cross-country teams this fall. The boys will be led by captains Kyle Martin and Matt Gabrielle, and the girls captain is Erin Connolly.
Dan Schmith, Derek Robbie and Kevin Martin, who formed the nucleus of last year's 4-5 boys squad, have graduated, but coach Pete Lacasse's prime goal is to strive for a .500 record. "Kyle is out for his third year and Matt is a second-year veteran," Lacasse said. "Kyle has good endurance, an effortless stride and improved speed while Matt is a hard-worker and a good leader. He worked through injuries last year to participate."
Two other keys for the boys will be sophomores Jared Steinbrecher and Adam Misiuk, a pair of runners with lots of promise.
Connolly is back for her junior season; she'll be joined by Sarah Edwards, who was a Tri Valley all-star and a Metrowest Super Six choice in the 800 in outdoor track.
"Erin has good endurance and she's more confident now," Lacasse said. "She's ready to reach the next level. Sarah won the 800 in track in every TVL meet and at the Division 4 meet. She's tenacious, has decent endurance and excellent speed and she's very competitive."
The girls were winless last year, but Lacasse's objective is to post some victories. Both the boys and the girls will open their seasons at Dover-Sherborn on Wednesday, Sept. 10. 
High Expectations for BHS Volleyball
The Bellingham girls volleyball team won only one game last year, but second-year coach Wayne Poitras believes his Blackhawks can get to 10 victories and qualify for a tourney berth. "We'll be more athletic and more aggressive this season," Poitras said, "and we've got a group of terrific captains." The captains include seniors Kendyl Hall (outside hitter), Evelyn Hutchins (outside hitter), and Jaxie Traudt (middle hitter) and sophomore Erin Umlauf. "This group shows excellent leadership, they're good athletes and they all played in the off-season," Poitras said.
Poitras points to defending champ Medfield as one of the top contenders for the Tri Valley League crown along with Medway and Millis. Bellingham, which had 30 girls report for pre-season practice, will open its season on Sept. 5 at Holliston.
 BHS Golfers Open Against Hopkinton
New golf coach Brian DeDentro greeted 22 candidates during pre-season practice and worked on establishing handicaps and drilling basic techniques for those new to the sport. The Blackhawks will open their season at home against Hopkinton on Sept. 4.
The 31-year-old DeDentro, who teaches history at the high school, has never coached golf but does have coaching experience. DeDentro previously coached the North Smithfield junior varsity baseball team and also has been a varsity baseball assistant.
DeDentro listed senior Logan Ewing and junior Connor Fenn as two "very capable" competitors who return from last year's team. "We know that competing in the Tri Valley League is challenging," DeDentro said. "We hope to better last year's record." Bellingham golfers finished last season with a 1-17 record.