Learning About Energy, Vitality & Immunity at Senior Center
Aug 29, 2014 10:00AM ● By Pamela Johnson
Ming Ming He demonstrates a method of redirecting energy
written by Teri Borseti, Contributing Writer
Everyone wants to be happy and healthy, and today the subject of the mind/body connection is more prevalent than ever. Men and women at the Bellingham senior center are learning a whole new philosophy of life by attending a four-part series that focuses on a new way of looking at health and the way we live.
Ming Ming He is a former therapist who left the field of traditional medicine to follow what she calls her blueprint. The Bellingham resident has spent years studying holistic alternatives, and much of what she believes is based on Chinese medicine.
In her third presentation she enlightened attendees on the subject of the soul. "I wasn't able to discuss the soul as a therapist, so I'm very glad I can do it now," she said. Her basic message is that mind over matter isn't enough, and that we must use the soul over the mind and over matter. "We grow up learning so many things, but no one teaches us about the soul," she said.
In addition to talking about the soul and how to employ it daily, she also introduced the subject of the eight chakras, which are energy pathways that exist in the body—the non-physical energy.
Ming Ming also explained to her students that the palm of the hand controls the front of the body, and the back controls the back. She demonstrated several simple tapping exercises designed to get chi, or energy, flowing properly. She talked about meditation and chanting and asking for divine energy. "Ask the soul to guide the fingers to heal the body," she said.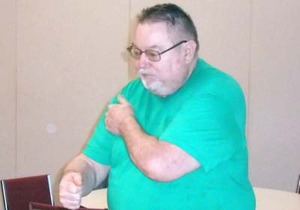 Alan Conrardy is shown above demonstrating something he learned at He's earlier program, which he said he really liked. "I came away with tools like meditation and tai chi. Ming teaches us the importance of having love, forgiveness, and harmony in our lives. I was happy to take it again," Conrardy said.
On the first night He took some time to get to know people, teaching them about their weight center and how to use motions to control energy. The second class focused on the importance of forming a deep understanding of love, forgiveness, and gratitude. She discussed how anger can block one's chi, an energy that should flow freely.
Sheila Ronkin, research development/outreach coordinator for the senior center, said she feels so lucky that the senior center is the first place He has agreed to host her workshops. "This is all very new now [at least in Bellingham], but I believe that in the future her ideas, which are rooted in Chinese medicine and philosophy, will become the norm," Ronkin said.
Bellingham resident Melody Shaw said she's attended all three classes and has found them very interesting. "I don't typically do things like this, but this has been fun and relaxing," she said.
 In an attempt to get people to see things differently Ming Ming talked about how so many people have bad knees and constantly curse and complain about them. "Your knees are doing the best they can. It's important to appreciate and even apologize to your knees. Everything has a soul," she said.
He has studied with Master/Dr. Sha, an internationally recognized teacher and healer. Sha has a degree in Chinese medicine and believes the divine has given him the power to download soul software.
It might be a little New Age for some, but according to Ronkin people who attend the classes always come out feeling better and more motivated.