Vets' History Project Marks Its First Anniversary
Aug 29, 2014 10:00AM ● By Marjorie Turner Hollman
Tim Harvey of Blackstone (left) in Afghanistan in 2011, holds MA flag given him by State Senator Richard Moore.
written by Marjorie Turner Hollman,Bulletin Contributing Writer
     It's been just a year since I started producing the Bellingham/Mendon Veterans Oral History Project, and what a trip it's been! So far we've documented ten veterans' stories and shared them with the wider community. ABMI Cable-8 TV has been a partner in this project from the beginning, offering both in-kind support for studio space and technical assistance, and the funds to send all the interviews and necessary paperwork to the Library of Congress (LOC). At the LOC, each veteran's oral history interview will be archived and made accessible for viewing and for study by future generations.
     In the process of lining up veterans for these interviews I've met many people in the community who have one thing in common: the willingness to serve. Without exception, these veterans, both men and women, have not stopped serving their country once they have been discharged. Some have served as volunteer firemen, others as drivers for the senior center, while others have gone on to serve in government or as emergency responders. Still others have gone abroad to teach English as a second language.
     To get a taste of what the Veteran's Oral History Project is about, check it out on Tuesdays at 9 am and 1:30 pm, either on ABMI Cable- 8 TV or at
http://abmi8.org
. You can also go to the veteran's page on the town website,
http://www.bellinghamma.org/pages/bellinghamma_veteran/Vets%20Oral%20History
.
     You can read short blurbs about each person interviewed; these give you a sense of who these men and women are who have served our country and community. After reading, pick one, maybe more, story(ies) to listen to; be prepared to be surprised, touched, transported to another time, and, yes, educated.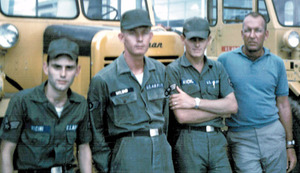 Bellingham's Bill Vicini (on left) with his aircraft repair crew, in Vietnam in the '60s.
     Veterans Day is coming soon—a perfect time to encourage veterans to share their stories before it's too late. As one individual in an international network of personal historians (through the Association of Personal Historians), I'm constantly reminded that, in the work we do, time is not our friend. Whether it is the effort to get around to organizing, labeling, and documenting the stories your family photos tell, getting your loved one's stories recorded or written down, or, in the case of veterans, persuading them that their stories have value, time is of the essence.
     The Bellingham Cultural Council has awarded a grant to this project, which allows the work to continue. Bellingham resident Amy Haug has assisted with technical aspects of the project, as has Karen Jaskinski-Dutil, Bellingham's Director of Information Technology.
     The list of people who have agreed to be interviewed is growing, but each interview and all that is involved in getting the documents ready for archiving at the LOC require a substantial commitment of time. I would love to involve others in this project. If this is something you'd like to learn more about, please contact me at
[email protected]
.