Bulletin Article Motivates Chevy's Ice Cream Owner to Plan Mancini Family Fundraiser
Aug 27, 2014 10:14AM ● By Pamela Johnson
Local businessman and Bellingham resident John Murray, owner of Chevy's Ice Cream and Pool Pro & Spa, read last month's Bulletin article about the Mancini family's misfortunes (August issue, pg. 38) and decided he needed to act.
"I'd like to try and help these people—they're in a very tough situation," Murray said, referring to the losses the family has suffered, and the ongoing battle that Dana Mancini is fighting with lung cancer. Mancini, who lost his wife, the mother of his three daughters, last year, was diagnosed with Stage IV lung cancer. He has since survived the surgery that removed one of his lungs, and has been released from an all-too-brief stay in a rehab facility.
But with chemotherapy—and a severely compromised immune system—looming in his future, Dana needs a non-toxic environment in which to recover, and, according to  his twin brother, David, Dana's home is far from that safe haven.
"Dana's hot-air furnace failed a while back," he explained. "His house has no basement; it's constructed on a concrete slab with the heating system ductwork running through the floor. The heat exchanger caused lots of toxic soot and gas from the old furnace to be released into the home. The furnace was replaced, but the contractor that replaced the heating system allowed large amounts of soot, carbon and debris to fall into the ductwork and never cleaned out any of the debris. So when the new heating system came on, it dispersed more large amounts of toxic soot and debris throughout the entire house, and although the house has been cleaned, a lot of the toxicity remains.
"It is my opinion that the entire heating system needs to be professionally cleaned, including all the in-slab ductwork. I believe all furniture, drapes, mattresses, and carpets require professional cleaning and/or replacement. I believe there may also be a black-mold issue from plumbing and other leaks," explained David Mancini.
A fundraising website has been set up at GiveForward.com (enter "Dana Mancini" in the search box). When last I checked, $1,735 had been raised.)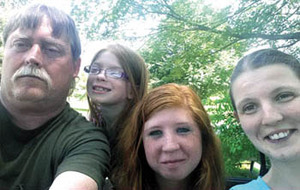 Dana & his daughters (L-R) Emily, Nicole & Vanessa
Fundraiser Slated for Sat., Sept. 13
John Murray and his general manager, Maria Gerrior, have planned a gala fundraiser for Saturday, Sept. 13, at Chevy's Ice Cream, located at 191 Pulaski Blvd. (Rte. 126, across from Grumpy's Restaurant), 12—8 pm.
Everyone is invited to attend. Live music will be provided by Morse Code. There will be a magician, balloon animals, face-painting, raffles, giveaways, a special guest appearances by retired N.E. Patriots player Patrick Pass, and more—plans were still being made at Bulletin deadline.
All proceeds from the event will go directly to the Mancini fund. (See ad on left.)
Event Schedule
(subject to change):
12–1 PM:  Magician & Balloons
1–3 PM:    Retired N.E. Patriot player Patrick Pass, autographs & photos
2–3 PM:    Magician & Balloons
3–4 PM:    TBA
4–6 PM:    Bobo the Clown, Balloons
4–8 PM:    Live entertainment with the band Morse Code (50s music)
6–8 PM:    Face painting   
For more information or to make a monetary or raffle-item donation, call Shayna Murray, 774-277-1011; or Maria Gerrior, 401-230-7727 (cell), or 508-883-3215 (office). Arrangements can be made for donations to be picked up.