Valley Tech holds 13th annual Technology Awareness Day
Jul 07, 2014 03:33PM ● By Pamela Johnson
Valley Tech students (left to right) Tyler Magri, Andrew Allen, Elizabeth DeCosta, and Mikayla Henault were proud to serve as tour guides at this year's event.
Time flies when you're educating children about the power of technology. Just ask David and Janet Lewis.  Thirteen years ago, David, a Manufacturing and Engineering Technology instructor at Blackstone Valley Tech, and his wife Janet, an Instructional Technology Specialist at Grafton's North Street Elementary School, were sitting at home talking shop about their respective careers in technology education.  When the conversation steered toward introducing young children to the educational and professional power of technology, an idea struck Janet.
"I said to David, 'Wouldn't it be great if my students could see how your students use technology?'" Janet recalled. "So we put a little tour of Valley Tech together for North Street students."
More than a decade later, that "little tour" has grown into a Valley Tech tradition and one of North Street Elementary School's most popular field trips. The latest "Technology Awareness Day" was held in early June and saw Multimedia Communications team leader Jim Millette provide the elementary school visitors with an overview on the daily role of technology at BVT. Working off their familiarity with video game consoles and personal electronic devices, Millette showed the young students that the same technology behind modern day gadgets is used to power Valley Tech's computer network, heating and air conditioning, and solar panels. 
Following Millete's presentation, North Street students, staff, and parents received an up-close look at technology's vital role in a successful vocational technical system. Guided tours of Valley Tech's various programs and shops were conducted by a team of BVT students, including several students who attended "Technology Awareness Day" when they were students at North Street Elementary. 
"The day I came to 'Tech Awareness Day' was the day I knew I wanted to be a student at Valley Tech," said Manufacturing and Engineering Technology junior Andrew Allen. 
Tour guide Elizabeth DeCosta of Grafton also credited 'Tech Awareness Day' with motivating her to pursue admission to Valley Tech's Manufacturing program. 
"Valley Tech can be such a good inspiration and something to strive for," DeCosta said. "If you're not doing well in school, you might say to yourself, 'I want to go to Valley Tech, so what do I need to do to improve?'"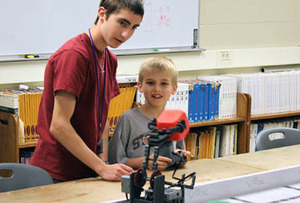 Above: Blackstone Valley Tech Electronics and Engineering Technology student Johnathan Saniuk of Milford guides a young North Street Elementary School student through a hands-on lesson in robotics.
Blackstone Valley Regional Vocational Technical High School serves the towns of Bellingham, Blackstone, Douglas, Grafton, Hopedale, Mendon, Milford, Millbury, Millville, Northbridge, Sutton, Upton and Uxbridge. Located in the heart of the Blackstone Valley, Blackstone Valley Tech creates a positive learning community that prepares students for personal and professional success in an internationally competitive society through a fusion of vigorous vocational, technical, and academic skills. The school's website is
www.valleytech.k12.ma.us
.