BHS Baseball Team Rolls to Sectional Crown
Jun 27, 2014 03:51PM ● By Kenneth Hamwey
Connor Birch, left, and David Sampson gave Bellingham excellent pitching en route to the Sectional Championship.
The Bellingham High baseball team won the Division 3 South Sectional championship by blanking top-seeded East Bridgewater, 5-0, behind the superb pitching of Connor Birch and a balanced offense that produced four runs in the fourth inning.
Birch, who pitched 6 1/3 innings, often worked out of some jams, and, although his pitch count wasn't exorbitant, coach T.J. Chiappone quickly called on David Sampson to end any hopes of a Vikings' rally.
"Connor gave us a great effort," Chiappone said. "He constantly worked out of trouble when they had runners on base. East Bridgewater can hit, but Connor kept battling. His pitch count was fine, but he started to tire in the seventh inning. We had good at-bats 1-9, and when Anthony Crowley tripled in the second inning, it showed we could hit their pitcher even though we didn't score. That triple sparked us." To get to the Sectional final, which was played at Campanelli Stadium in Brockton, the second-seeded Blackhawks defeated Dedham, Medway and Old Rochester.
The fourth inning is where the game turned. Bellingham scored four times with four different players driving in runs. After Birch reached on an error and Sampson singled, Crowley lifted a sacrifice fly to left field, scoring Birch. Reed Pike doubled, driving in Sampson; catcher Michael Ryan singled, sending Pike home; and Kyle Goulet singled in Ryan. In the fifth inning, Chiappone called for a suicide squeeze. Kevin Martinis, who had doubled, took third on a bunt by Birch and scored when Sampson laid down a perfect bunt.
Birch, who wanted to go the distance, said he was "ecstatic" about the outcome. "I'm really happy," he said. "I just had to keep battling and stay focused. I tried to hit the corners and mix up my pitches. This is a great team win with everyone contributing."
Sampson, who, like Birch, was 2-0 during the tourney, called the title run "a blast" and lauded his teammates. "Our entire squad is like one big family," he said. "We cheer each other, and the attitude is always positive. To win the title was nerve-wracking, but it's still fun. We've got to get ready for the State Tournament, so there's more work to do."
Ryan, who catches both Birch and Sampson, said he's proud to be able to work with a pair of ace hurlers. "Connor and David are quality pitchers who get the job done," Ryan said. "They're both fun to catch. Right now, I'm proud of all my teammates."
Centerfielder Ryan Postler said the regional title "feels good," but "there's more work to do," and Martinis called the victory "unreal," reminding others that the players have been together for years. "We've known each other since Little League, and it's just great to win together," Martinis said. "I don't care whether I'm pitching or playing first base; I'm just happy to be part of this."
As for Martinis's scoring on the squeeze play, he said, "It was a perfect bunt and I scored, even though I'm not very fast on the bases."
The victory over East Bridgewater hiked the Blackhawks' record to 21-3 as it entered the state semifinal round. The title was the second since Chiappone's been Bellingham's coach—the other coming in 2003. The celebration was witnessed by a solid turnout of Bellingham fans.
Following is the path the Blackhawks took to win the Sectional crown: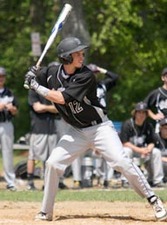 GAME 1
BELLINGHAM 4, DEDHAM 1
Entering the tourney with a 17-3 record and seeded second, the
Blackhawks took control of their opening-game, home-field matchup with Dedham of the Bay State League by jumping out to a 1-0 lead then adding three more runs. Connor Birch was the offensive star, going 3-for-3 with a double and two runs-batted-in. Sean Postler and Anthony Crowley had two hits each for Bellingham. David Sampson, the Tri Valley League's MVP and co-pitcher of the year, fired a three-hitter and struck out 15 for a complete-game victory. "David's 15 strikeouts took the pressure off our defense," Chiappone said, "and Connor had a great day at the plate. Those two seniors have given us great leadership all year."
GAME 2
BELLINGHAM 14, MEDWAY 2
Connor Birch dominated 10th-seeded Medway with his bat and his pitching in the quarter-final round of the Division 3 South Sectional at Bellingham's home field. The senior went six innings, striking out six and surrendering only three hits. He also had two hits and drove in two runs. Other keys on offense were Kevin Martinis (3 hits, 2 RBIs), Brad Rebello (3 hits, 1 RBI and 2 runs scored) and Anthony Crowley (2 RBIs).
"We wouldn't be where we are without Connor," said Chiappone. "He's one of our top hitters, and he's really stepped up with his pitching, improving his record to 5-1. We put a lot of hits together against Medway."
GAME 3
BELLINGHAM 13, OLD ROCHESTER 3
The Blackhawks advanced to the Division 3 South Sectional final against East Bridgewater by soundly defeating Old Rochester, 13-3, at Wheaton College. Sampson struck out nine, walked two and yielded only one earned run in 5 1/3 innings. Four players excelled offensively—Sean Postler (3 hits, 3 runs), Rebello (2 hits, 3 RBIs), Birch (2 hits, 2 RBIs) and Michael Ryan (2 hits, 1 RBI). "Our kids are handling the pressure of single elimination very well, and their team-effort approach has taken center stage," Chiappone said. "We beat Old Rochester by
playing with composure and taking advantage of some miscues. Anytime we get runs for David, it's a plus because he doesn't surrender many."