Fire Prevention Stressed in Hazard House Demo
Jun 26, 2014 01:55PM ● By Pamela Johnson
Did you know that preventing fire-related deaths could be as simple as changing your smoke detector battery or the number of wires you have plugged into an outlet? The Bellingham Fire Department's (BFD's) Brad Kwatcher addressed the importance of safety in the home in the "Hazard House" program at the Bellingham Senior Center on June 18.
Kwatcher noted that Massachusetts is very fortunate to be one of the leading states with a fire safety program, next to Minnesota. With fire-related deaths on the rise for elderly adults, there's a serious need for programs like "Hazard House" to help demonstrate potential hazards and build safer communities.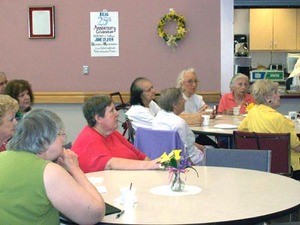 Those present were able to see up close what an unsafe home looks like through the "Hazard House" display that Kwatcher had brought. Participants helped to identify home hazards, and Kwatcher offered solutions to common issues that he routinely sees in residential homes. Many of the hazards are basic things that we forget about, but Kwatcher mentioned that it is important to make changes to your home to create a safer environment for you and your loved ones.
From too many plugs in one outlet to failing to change smoke-detector batteries twice a year, Kwatcher spoke about the numerous hazards that can pop up in your home at any moment and sugested solutions to prevent household dangers.
Kwatcher also stressed the importance of keeping a clutter-free home, especially in attics and on stairways. Too much clutter and hoarding are unsafe. For your safety and the BFD's safety, it is important to keep your home clear and walkable in case of an emergency.
Other "Hazard House" tips include the following:
Keeping grills outside to prevent fire and smoke hazards.
Being cautious when candles are lit in your home. Use candle holders and keep candles away from flammable items.
Being kitchen smart. Never reach over a stove when cooking, and don't cook when there are distractions.
Keeping chemicals out of reach of children.
Kwatcher invited everyone to contact him or anyone at the BFD anytime if they have a question or concern about home safety. The BFD can be reached at (508) 966-1112.